~~~ Originally posted on Nigorimasen! ~~~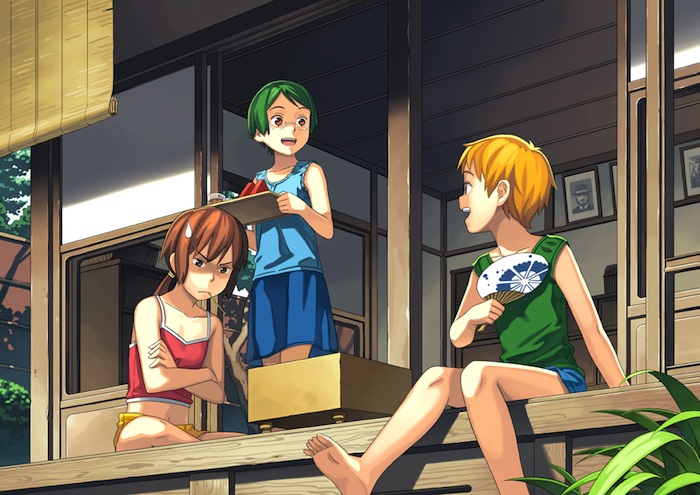 art by 加藤アカツキ [pixiv link]
I haven't done new season expectation posts for a while (last one was two years ago) and I likely won't write a set of first episode posts unless there's something that I really want to highlight. If you want a fuller scope of the newly premiering shows, some good listings are at ANN, T.H.A.T anime blog and Sea Slugs. Here are seven series I'm curious to try in the next few weeks.
Blood-C [July 7th, 25:55 JST]
I liked the original Blood The Last Vampire movie as a dark action feature but got bored of Blood+ after 6 episodes. CLAMP's involvement in this is a minor drawing point; however, that alone doesn't guarantee I'll like an anime series (Tsubasa, Code Geass).
The iDOLM@ASTER [July 7th, 26:10 JST]
I've been mildly interested in the series' characters for a while. I barely remember trying one episode of Xenoglossia but I think I may like seeing the different idol personalities interact.
Ikoku Meiro no Croisee [July 3rd, 24:30 JST]
Japanese girl working in Paris metalworks shop during the second half of 1800s. This trailer makes it seem like a relaxed pace series. The European aspect reminds me that I am still stalled on early episodes of Gosick.
Kamisama no Memo-cho [July 2nd, 23:00 JST]
I guess the NEET angle is why I might try this one. Will probably be shortened to KamiMemo in future mentions. The first episode appears to have a special 1 hour length.
Nekogami Yaoyorozu [July 9th, 8:30 JST]
This comedy about a antique shop frequented by goddesses could be funny and it *does* have Haruka Tomatsu as cat goddess Mayu-sama, whom I liked in Kannagi.
Ro-Kyu-Bu! [July 1st, 23:30 JST]
I had to mention this for just the basketball aspect. Not expecting it to be great but Halko Momoi is doing the ending theme so it can't be all bad, right?
Usagi Drop (Bunny Drop) [July 7th, 25:00 JST]
I haven't read any of Yumi Unita's acclaimed manga but this is an noitaminA show by Production I.G. so I'll give it a shot. Not that interested in No. 6, the other show in that block this season, despite BONES' involvement. I hope at least this one gets simulcast out of those two.