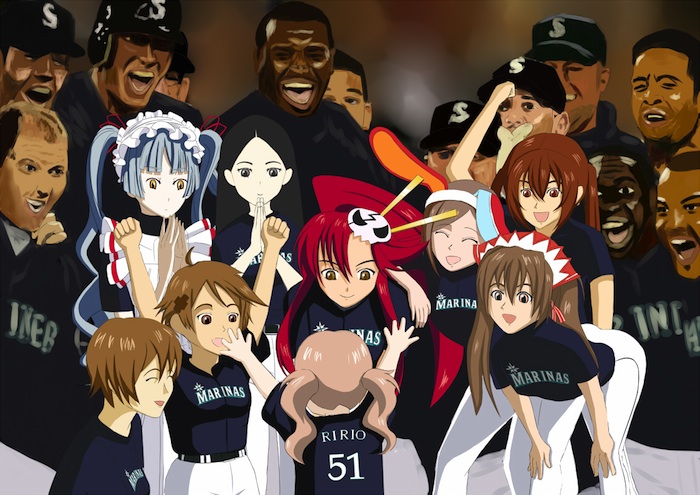 I couldn't resist using a Mariners/Marina Inoue pun image. [pixiv artist クロエ]
I will be heading to Seattle on Thursday to cover Sakura-Con 2011 this weekend. It'll be my first West Coast convention outside of California and I'm looking forward to the couple days off from work. I may be hanging out with LB Bryant of Otaku Review some of the time and hopefully record a podcast or do some video thing while I'm up there. If you're also going to be there, let me know! (Sadly, I wasn't able to coordinate a Takeshi Tatsumi cosplay outfit so maybe that will happen at a later convention?)
Some of the guest events include:
- Kotono Mitsuishi having a Q&A on Saturday 12pm-1pm, a couple of autograph sessions (Friday 3-4pm & Saturday 1:30-2:30pm), introducing a screening of Evangelion 2.22 along with Tiffany Grant (Saturday 4:30pm-6:30pm), a focus panel called A Pretty Sailor's Journey From the Moon to NERV (Sunday 2pm-3pm), and Kotono MItsuishi and Team Dream Catchers Show concert Sunday 10:15am-11:15am.
- Masuda Sebastian will hold a panel about Harajuku fashion (Saturday 10am-11am) and putting on a fashion show (Sunday 12pm-1pm). Otaku-Verze Zero recently did an episode about his 6%DOKIDOKI store.
- Manga expert Jason Thompson will be chairing two panels:
The Future of Manga (Fri 2:30pm-3:30pm)
Tentacles, Crosses & Cigarettes: Censorship in Manga (Sat 10pm-11pm)
- Culture writer Ronald Kelts has four panels on the current schedule:
Japanamerica: The Invasion of Japanese Pop Culture in the US (Friday 1pm-2pm)
Pop Culture from a Multipolar Japan (Saturday 11:45am-12:45pm)
Japan's Apocalyptic Imagination in Anime, Manga and Art (Saturday 2:15pm-3:15pm)
Life as an American in Tokyo (Sunday 11am-12pm)
One problem I'm having in planning out a schedule is that there are no panel descriptions online or on a mobile schedule app like the Conventionist so I have to rely on the titles for now.
Below is my broad list of things I am considering attending during the convention (based on latest schedule revision from April 19). I obviously won't make it to everything - there will be a few game time decisions - so take this as a reflection of my curiosity.
FRIDAY 4/22
10am-11am: Opening Ceremonies
11am-12pm: AMVing: Getting Started
12pm-2pm: AMV Contest
1pm-2pm: Japanamerica: The Invasion of Japanese Pop Culture in the US with Roland Kelts
1:45pm-2:15pm: Manga Creation with Daisuke Moriyama and Atsushi Suzumi
2pm-3pm: Behind-the-Scenes at FUNimation's DVD Production with Bevins and Harp
2:30pm-3:30pm: The Future of Manga with Jason Thompson
3pm-4pm: FUNimation Panel
3:30pm-5pm: Anime Match Game
4pm-5pm: ABCs of Anime
7pm-8:30pm: Are You Smarter Than A Nation?
8pm-10pm: Garden of Sinners Movies 1-2
9pm-10pm: AMVing: Intermediate Skills
9pm-10:30pm: Visual Novels
9:15pm-10:45pm: You Don't Know Jack!
11pm-1am: Garden of Sinners Movies 1-2
11pm-12am: We Got the Beat! - Part 1 [AMV Theater]
11:45pm-1:45am: Late Night Improv
12am-2am: Hyakumonogatari Kaidankai (100 Ghost Stories)
12:15am-1:15am: AlbinoBlackSheep: When Flash Ruled the Internet
SATURDAY 4/23
6am-10am: Early Bird AMVs
10am-11am: "Harajuku", "Kawaii" Culture with Masuda Sebastian
11:45am-12:45pm: Pop Culture from a Multipolar Japan with Roland Kelts
12pm-1pm: Kotono Mitsuishi Q&A
1pm-2pm: Aniplex of America
2:15pm-3:15pm: Japan's Apocalyptic Imagination in Anime, Manga and Art with Roland Kelts
2:30pm-3:30pm: Bandai Industry Panel
4:30pm-6:15pm: Press Your Luck
4:45pm-6:00pm: Sirens, Shapeshifters, and Seductresses: The Demonic Women of Japan
6:15pm-6:45pm?: The Digital Age: eManga
7pm-8:30pm: Women of JRock
7:30pm-9:30pm: AMV Contest Re-Showing
9pm-12am: Anime Music "Chill Out" Room
9pm-11pm: Late Night Slang, or "Words Haha Never Taught Me"
10pm-11pm: Censorship in Manga
11pm-12am: The 99 Yen Challenge
12am-2am: Shibari: An Introduction
SUNDAY 4/24
10am-11am: Dark Horse Panel
11am-12pm: Life as an American in Tokyo with Roland Kelts
11:30am-12:30pm: AMVing: Advanced and Beyond
12pm-1pm: Harajuku Kawaii Experience at Sakura-Con with 6%DOKIDOKI
12pm-1pm: State of the Industry