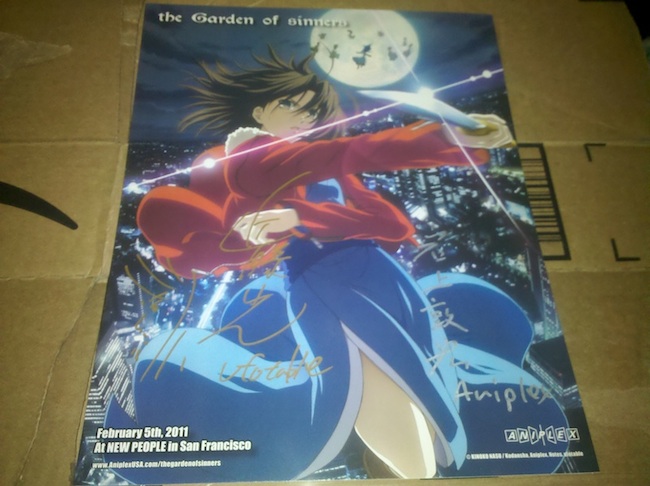 Last Saturday, I went to San Francisco to see the Garden of Sinners (Kara no Kyokai) at Viz Cinema. It had the feel of a promotional event - there was a sample box set unpacked in the lobby and the host reminded people a few times how many of the ten sets were remaining. Even though it was long at about 5 1/2 hours, it seemed worth the experience of seeing it with a bunch of other people.

I was about 20 minutes late for the first movie because of traffic and I came in about when Shiki was stabbing her prosthetic hand. I read the translated 1st chapter in a copy of FAUST the night before so I knew the basic structure of the 1st film, though I wouldn't mind seeing the first half to establish the main characters.
They were only showing films 1, 2 & 7, which I think was okay for one day since the runtimes were 48, 58 and 121 minutes, respectively. (Films 2 & 7 comprise the two-part A Study in Murder storyline.) I was able to follow along with the main story; however, there were some characters like Azusa and Souren who just kind of appeared & are probably better fleshed out in the other four movies. The 7th film had a creepy ending to it & a touching epilogue.
I could easily tell the music was composed by Yuki Kajiura - some of the choral tracks reminded me a bit of what I'd heard in Tsubasa Chronicle. Some of the ending themes like "Oblivious" (1st film) & "Seventh Heaven" (7th film) were good closers performed by Kalafina, who also recently performed the ending theme to Puella Magi Madoka Magica.
I enjoyed watching the films despite the mystical elements about desires from past lives and the SHIKI/Shiki dualism feeling a little much for me. I would like to see the other chapters eventually but I wasn't ready to lay down $400 for the set. All ten boxes at the event did get sold by the end and at least 25,000 have been sold in Japan. RightStuf has sold out of their allotment (about 50?) but Amazon Japan still has it in stock for 41,618 yen (~$498 USD).
Before the 7th film was shown, there was a Q&A session with ufotable producer Hikaru Kondo and Aniplex producer Atsuhiro Iwakami. Kondo remarked how difficult & hectic the production was due to the small details they tried to include and that only bad memories came back when re-watching the films, thinking about the many retakes that were done. It was hard to convey to the hundred or so staff members that they needed to quality work. Part of that effort was replicating Touko's room within the studio and having meetings within that room. Iwakami admitted the action scenes were definitely difficult but so were the quiet scenes between Shiki and Mikiya as well as the military style crawl in movie 7.
According to Kondo, screenings of 1st chapter in a Harajuku theater were standing room only for the 1st month or so, which caused the staff to get confidence to finish the rest of the production. He also reminisced briefly about how he loves good packaging, like some Laserdisc releases were in the past. Iwakami said it was great to work with TYPE-MOON's Nasu and Takashi Takeuchi & they are looking forward to doing future projects. (TYPE-MOON's upcoming game Mahou Tsukai no Yoru was mentioned but there are no current plans to adapt that. Fate/zero is one of ufotable's upcoming projects and is slated to air later this year.)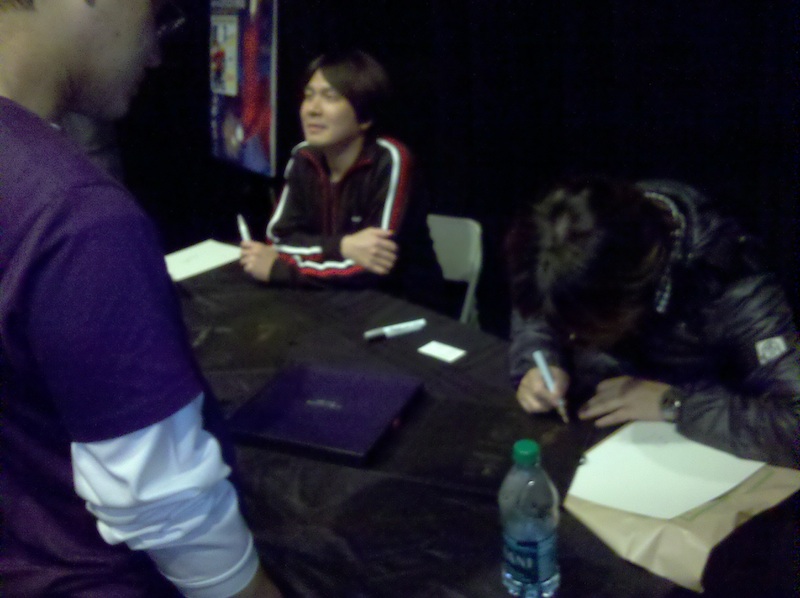 ufotable's Hikaru Kondo (right) signing a recently bought box set
There was a signing session at the end with everyone getting small promo posters, like the one at the top of this post. Some of those who bought box sets at the event also had the interior signed. (I didn't switched my camera out of macro mode so the few photos I took were out-of-focus.)
Related coverage:
bonertown looks at the box set for Analog Housou
Proper reviews on ANN (Zac Bertschy), Mania (Chris Beveridge)
ufotable blog (Feb. 5th & 6th entries)