The content below is entirely editable.
Overview
Princess Jellyfish (海月姫, Kuragehime) is a Japanese josei manga series written and illustrated by Akiko Higashimura. It began serialization in the Kodansha manga magazine Kiss on November 10, 2008. An 11-episode anime television series based on the manga was produced by Brain's Base and aired on Fuji TV's Noitamina programming block between October and December 2010. The anime has been licensed by Funimation Entertainment.
Plot
In this hilarious slice of life we have two main characters. Our first character Tsukimi Kurashita is introduced as a 18 year old with a dream to become a princess and to have a wedding dress in he shape of a beautiful jellyfish. So far she hasn't even had any experience in love what so ever. She lives in an old-fashioned Tokyo building but the thing is everyone that lived there is part of their club "the nunnery" (they call themselves the nuns too). Our main character loves jellyfish and always wanted one. Then one day she gets her wish. She was out on a stroll when she sees one of the jellyfish in the pet store are in danger. That's when a beautiful woman helps her out and they rescue the jellyfish and she takes it home. When they get home we discover the rules and motives of the nunnery. And our new gorgeous character, Kuranosuke Koibuchi has to sleepover. When they both wake up tomorrow a lot of things happen. First Kuranosuke Koibuchi is not a girl but actually she's a boy that dresses like a stylish girl. When the secret is out he starts to visit the nunnery everyday to see everyone there and together they have lots of fun. Romance , vengeance and even a little blackmailing is introduces to make the story interesting.
Soundtrack and sounds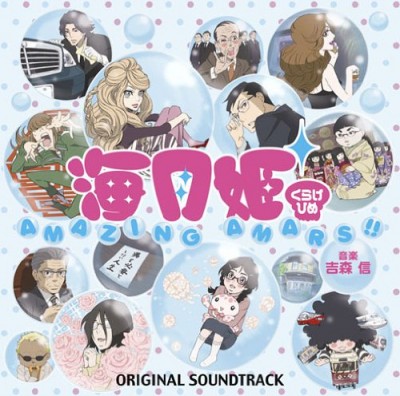 | | |
| --- | --- |
| Album Title: | Kuragehime Original Soundtrack "Amazing AMARS!!" |
| Anime Title: | Kuragehime (Jellyfish Princess) |
| Artist: | Makoto Yoshimori, Chatmonchy, Sambomaster |
| Catalog Number: | KSCL-1689 |
| Release Type: | Soundtrack |
| Release Date: | January 26, 2011 |
| Purchase at: | CDJapan, Play-Asia |
Track Title
Artist
Time
01. Koko dake no hanashi (TV Version)
Chatmonchy
1:32
02. We are AMARS
Makoto Yoshimori
4:21
03. Umi to tsuki no yume
Makoto Yoshimori
4:26
04. Yokoso Amamizukan he
Makoto Yoshimori
5:00
05. Marco de o kaimono
Makoto Yoshimori
3:14
06. Yugatairo no omoide ni
Makoto Yoshimori
3:38
07. Tayutau you ni yurayura to
Makoto Yoshimori
4:32
08. Raika Madonna
Makoto Yoshimori
3:05
09. Sakurako no heya
Makoto Yoshimori
3:10
10. Souten no gotoku
Makoto Yoshimori
2:22
11. Shasou ni ikou~Kakueiki teisha hen
Makoto Yoshimori
2:33
12. Shasou ni ikou ~Kyuukou hen
Makoto Yoshimori
0:50
13. Kareki ni yume wo
Makoto Yoshimori
3:33
14. Clara detsu!
Makoto Yoshimori
1:13
15. Wabishiki shokutaku
Makoto Yoshimori
2:23
16. Kimyou na gishiki
Makoto Yoshimori
2:44
17. Gogo no junjou
Makoto Yoshimori
3:55
18. Ah bousou
Makoto Yoshimori
3:53
19. Kuro no dandy
Makoto Yoshimori
2:35
20. Chiba-ken ichikawa shusshin YA
Makoto Yoshimori
3:00
21. Nana iro no yuuwaku
Makoto Yoshimori
2:37
22. Emajen !
Makoto Yoshimori
2:45
23. Wasuretai ame ni
Makoto Yoshimori
2:55
24. Asu, ameagari
Makoto Yoshimori
3:02
25. Odore! Amars
Makoto Yoshimori
3:27
26. Kimi no kirei ni kizuite okure (TV Version)
Characters & Voice Actors