Characteristics

Real Name: Kuro Aruji (Black Master)
Hair: Black
Eyes: Brown
Gender: Male
Height: 6'4
Weight: 161 lbs
Martial status: SingleAge: 34
Allignment: Neautral-good (Self proclaimed evil)
Aliases: Black devil, Black Hurricane, Black Lighting, Afro thunder, Afro-zilla
Place of Birth: New York, New York
Raised: Hiroshima, Japan
Group Affiliation: None
Occupation: Freelance mercenary, woundering swordsman, Ex-Guardian of Heaven, Devil's angel.
Race: Half angel, part demon, and part human
Orientation: Heterosexual
Appearance

Kuro is a tall man with brown eyes and a thick black rounded afro which adds further to his rather incredible height. Kuro wears a traditional greenish tinted samurai hakama with two swords at his side, he also wears black tinted sunglasses most of the time. However Kuro is also seens wearing a white Hiyori.
Personality
Kuro is a laid-back romanticist who believes that love can conquer any obstacle. Kuro appreciates kindness and respect from the people he faces. He is a laid back, easy-going man. He hates people who overestimate themselves or are too overdramatic, although despite this, Kuro likes to show-off himself when there is a good audience, he loves using flashy moves even through his fighting style is mainly tricky and brute force.
Becoming a Angel
14 years ago Kuro was named Elvis and was a mercenary for hire, he was broke, had no home, and was at the end of the line in his life, his parents were killed in a gang shoot-out while he was growing up in New York, he then joined the Marines in order to escape the life he was in, however in one mission Elvis ended up killing civilians in a hostage situation, he was then dishonorably discharged, however before facing his sentence Elvis went A.W.O.L. and fled to Japan, there Elvis started a new life, he used the information and skill from the military and used it in missions to take out Yakuza bosses and thugs. One night on a mission Elvis was ordered to kill a swordsman guarding a woman whom one of the men who hired Elvis wanted to use in female trafficing, Elvis accepted however despite the man's title, Elvis was still surprised that the man who he was faceing was indeed an actual swordsman, he didn't have any hidden weapons just a blade. Elvis stood in front of the man with his assault rifle aimed at him, it was 12:00 AM in front of a sake bar, the pale, blue haired swordsman, wearing a white Kimono stood ready with his sword draw, he only said a few words "I have been expecting you foreigner, you wont have the geisha! On my honor I swear I will stop you!" Elvis at the time had no clue what a geisha was, or why this man brought a knife to a gun fight, however despite the fact that Elvis had killed many people, both young and old which were always armed, he could not help but not pull the trigger on this man, something about the man's sword, it was like it was talking to him or singing a sad song. The man thing sheathed his sword and got into a ready stance, however despite the situation the man was calm and collected:
"I will not hesitate, assassin!" the man said as he quickly lunged at Elvis with his sword using the quick draw style. Elvis' eyes widened as he fired his rounds into the man, his white shirt was now coated in crimson as he fell backwards onto the ground, Elvis stood there frozen for a moment before noticing a burning pain across his chest , he slowly looked down only to see a ginat crecent shaped slash across his torso, it began leaking blood like a broken sink, Elvis dropped his rifle and got on one knee, "What, the hell!? I didn't even see him!" Kuro said to himself, however before he could fully register what had just happend the swordsmanwas back on his feet, blood flowing form his chest and mouth, he coughed but then spoke in one final breath "I will stop you!" the man lunged again, however Elvishopped backwards and pulled out his pistol, shooting the swordsman in the head, as his body lay motionless on the ground, a tear came from Elvis' eye, why? Elvis did not know, but something was calling to him, telling him to take the sword, Elvis tossed his gun away and took the blade, it felt...right. Later that night Elvis went back to base, he was asked about his scar however he did not want to talk about it, from then on Elvis learned the ways of the sword, and a few months later Elvis was a swordsman for hire

Three months later, Kuro was out on yet another mission.
Powers and abilities
Kuro in a sword master as well as an expert marksmen due to his years as a Mercenary, marine, and samurai.
In addition, after gaining the powers of an angel, Kuro was given the ability to fly, use magic and phycic abilities. Kuro also get another stat boost from his demon power such as enhanced strength, stamina, durability, and speed.
From the demon power, Kuro possesses the demon mask, the mask is ceated from the souls of powerful evil entities and manifest into a tangible form, Kuro gets the stat boost from all the souls put into the mask however, the evil souls corupt Kuro the more he uses it, if the mask is used for more than 3 minutes Kuro is possessed and weakend afterwards. On the plus side, Kuro's physical attributes skyrocket, his speed increases to mach 50-100 only if he pushes himself to the limit, his strength in able to go up to class 100, and his durability can be multi city-block level, he is also able to fight for what would be a entire day in three minutes (Meaning he can uses as much energy as one would in 24 hours in only 3 minutes and be fine)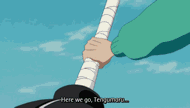 Burning meteor: Kuro's weapon ignites itself in flames he then points it downwards and a huge fireball fires from the tip where upon making contact with the target the fire explodes outwards a great distance with the resulting blast being strong enough to cave in buildings near the center of impact. At the site of impact a huge column of burning flames forms further incinerating anything in the area the power of this attack is equal tot hat of a nuclear explosion, however this take 5 minutes to charge.
Kuro transforms his sword into a giant spike Kanabo, it weight 50 tons and is more than twice the size of Kuro himself.

Kuro uses the energy from his opponent and combines it with his own, then launches the attacks back twice as strong and fast, however the energy must be emited from the opponent (Such as aura, energy attack, or even manifested enitities made of any type of energy) Kuro cannot do this all the time as it cost him as much energy from him as was put into the attack, so if the attack was able to blow up a planet, Kuro can only reflect enough energy from it to blow up a city, the rest would still get him.
Regeneration: Although Kuro cannot restor limbs, he is able to almost instantly heal what can be considered a mortal wound, such as a hole in his body or even internal injuries.
Immunity to mental attacks: Because Kuro has thee different minds, one of which containing souls and minds of others, it is nigh-impossible for mental attacks to work on Kurp, considering some of the souls are sorcerers,another soul being that of the pirate Kurohige.
Teleportation: Kuro can teleport three times every minute, his teleportation is instantanious.
Edited 3 years, 9 months ago