I just finished watching the first season of The World God Only Knows and was kinda impressed with the protagonist and his nerdy skills. Which set me thinking: there are possibly more in fiction like him.
So the point of the thread: Name the characters (from fiction) you think are the greatest otaku/geek/nerd/social outcast/<whatever other name you call such a character> and list their feats.
RULES
1. Only humans allowed.
2. No reality warping or any other special powers. Just pure skill.
3. You can use any version, canon or not.
-----------------------------
My picks are:
1. Keima Katsuragi (The World God Only Knows)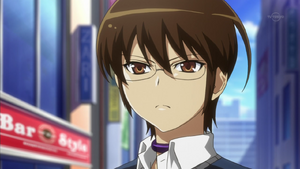 I just finished watching this (after seeing DestinyHeroKnight's recommendation) sooo...here's a wall of feats:
-Plays games everywhere and all the time whether it be while having food, in the bath, in school while class is running, while walking to school, in the toilet, etc.
-He is so obsessed with games, to the point of closing himself up in his own room and playing for 3 days straight, just to make it for his "deadline" on the Internet.
-Has mastered each and every dating sim game starting from the 1980s and the consoles then to the present day consoles/gaming devices. Not to mention that he has collected every possible version of such games and every possible port (I mean version like PS3 version, PC version, etc.) of such games.
-As his mother puts it, gaming is like "nutrition" for him. He can go without food but not without gaming.
-He has beat each and every dating sim/adventure game(if it has those elements) he has come across and is referred to as "God of Conquest" by other gamers. He helps all of them out too and runs his website as well where he writes reviews and helps them.
-His most impressive feat is probably the one where he finishes an "unbeatable" game (game was unbeatable because it had 90% bugs, 100s of pointless choices/routes, company closed down before releasing a patch, no save function in the game, every gamer had abandoned it, went into endless loops if wrong choices were taken, etc.)
He did this by taking each and every possible route/choice in the game in order to find if there was a sequence of choices that helped to beat the game. This over the course of a day.
-He also goes into a state he calls "Conquest God mode". In this state, he can play 6 games on 6 different consoles and screens at once without any loss of attention span or any other problems. Oh, yeah, 6 different controllers as well. He was tapping/pressing the buttons so fast that a supernatural being couldn't even see them due to his speed.
And he beat those games all at once in a few hours. Some of them were Wiimote games.
-Because he was unable to find time to play the latest games and catch up with previous ones, he...played 24 games at the same time! Many screens, many controlllers, many games, many consoles...some of them even burst.
-Inspite of all the above, he is a 100% student at school (he is almost perfect at academics). Horrible at physical related stuff.
-Probably some other things I'm leaving out. Some other things which the wiki explains better (blatantly ripped off from the wiki):
Wiki
Despite the fact he plays video games in class, Keima is a top scorer in every subject. When he was scolded by his English teacher because of his gaming habits, he reasoned that everything would be fine as long as he aced all his exams, and then proceeded to do so, demonstrating a great academic ability. It is shown that he applies the same analytical skills he utilities to "capture" girls when studying. This method was proven effective when he flawlessly predicted the questions on the upcoming English test, basing himself on the teacher's personality and the examination extent.
Keima can multi-task with unflinching accuracy. He has been shown to be able to operate several different video and computer games at the same time with extreme ease and regularity. His room is set up to allow him to play up to eight different video games at once. He also has an extensive collection of video games and systems, even those that goes as far back as the early cassette based computer games of the 70's and 80's. Keima has made a point that anything less than several games at once leaves him unchallenged and unsatisfied.
In the Omake, it is said that Keima has modified his PFP, granting them never before seen abilities that normal PFPs don't possess.This may hint that Keima is also good with technology.
------------------
2. Game Master/ Tsukihita Amano (Yu Yu Hakusho)
Memory is pretty bad actually but from what I remember:
-Greatest gamer in the country at that time.
-He was only a kid less than ten IIRC.
-Mastered each and every game to the point where you could say he has precog for the games he has played. He know questions/events and even randomly generated stuff before they even happen.
Example: He knows the exact questions, their answers, the point at which they will be asked, etc. for the games he has mastered. Pretty awesome skillz right there!
-Gaming dimension related powers but that is irrelevant here.
-Probably something else I'm missing. __________________
-----------
SO? NAME YOURS!!! >_<
Posted 3 years, 1 month ago