~~~ Originally posted on Nigorimasen! ~~~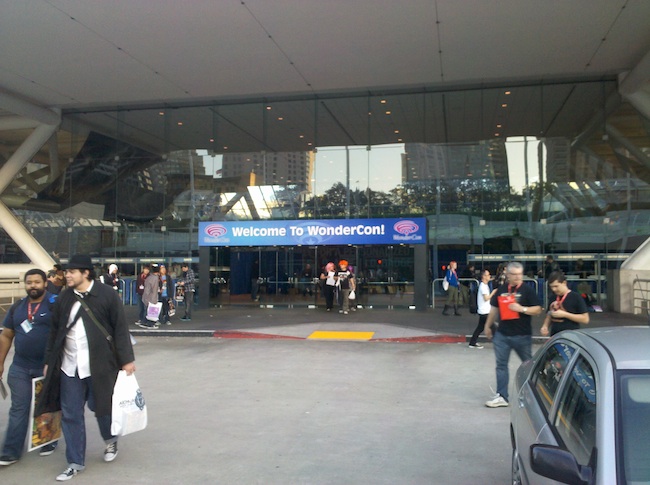 I attended WonderCon 2011 in San Francisco a few weekends ago and mostly attended panels along with getting a few things in the artists' alley. It was my first real comic convention in a sense and a learning experience in stuff that wasn't non-traditional comic material. I didn't take many pictures with my cameraphone and wasn't compelled to stop anyone for cosplay photos. However, I did very briefly meet & shake hands withTested.com's Norman Chan as I was heading into the Moscone Center - you can check out the cosplay gallery he put together for Comic Vine.
I was a little late for the first panel I planned to see - Spotlight on Berkeley Breathed: Tales of an Accidental Cartoonist. The author of Bloom County & Opuswent through how some of his characters were inspired by other things (e.g., Opus from Mr. Popper's Penguins, Bill the Cat as a parody of Garfield) and some hilarious art from the bottoms of letters he & Bill Waterson wrote back and forth. He talked his other projects including the Mars Needs Moms! children's book inspired by his son, doing original art for the movie Secondhand Lions, and redoing Opus as Opus the Peahen for the alternate universe in Fringe. He even showed off a concept video from a failed Opus movie project.
Next up was The Sergio & Mark Show with Sergio Aragones and Mark Evanier. I knew Sergio from older issues of MAD Magazine - my dad recently got a hardcover collection of his MAD work for Christmas - but I hadn't heard of Mark before that weekend. It was mainly Q&A with some people asking for updates on Groo the Wanderer. Both said they each like working late at night because everyone else in the house is asleep.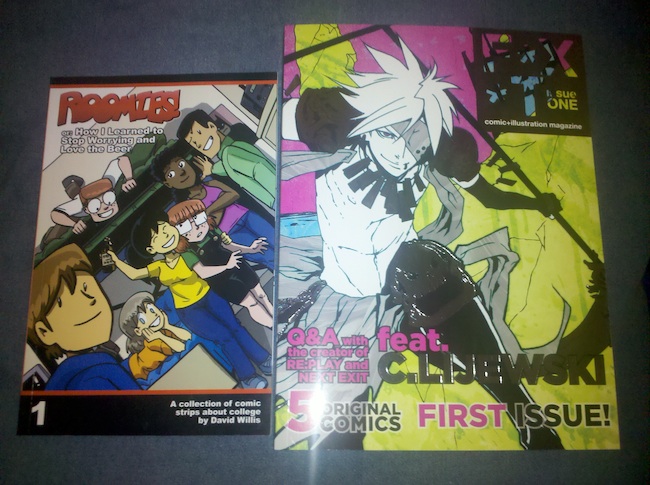 I had about an hour after the next panel I was interested in so I decided to have a quick lunch (turkey & cheese sandwich) and walk a little bit around the artist alley section of the exhibit hall. I got the 1st issue of F*X*T Magazine and Roomies! (a webcomic collection) from David Willis because the art looked familiar from somewhere I couldn't place. Deb Aoki interviewed F*X*T developer Fawn Lau when the magazine was still in its Kickstarter stage.
Creator Rights was about how to not get screwed by a publisher when starting out with your work and keeping control on your characters. Mark Evanier moderated and the guests were writers Mike Friedrich and Marv Wolfman, retailer Joe Field, and intellectual property lawyer Michael Lovitz. Most of the audience seemed to be people who were already drawing or writing in some form. They recommended trying to self-publish at first and to not feel pressured to make a deal with a publisher. Some resources available to burgeoning artists like the Graphic Artists Guild and San Francisco legal clinics to look over contracts. (Graphic Novel Publisher also wrote a little bit about this panel.)
Michael Lovitz also ran the Comic Book Law School panel down the hallway and had a nice quick disclaimer at the beginning that it was for entertainment purposes only and shouldn't be taken as legal advice. He interacted well with the audience and helped flesh out some distinctions between copyright, trademark and similarity of ideas.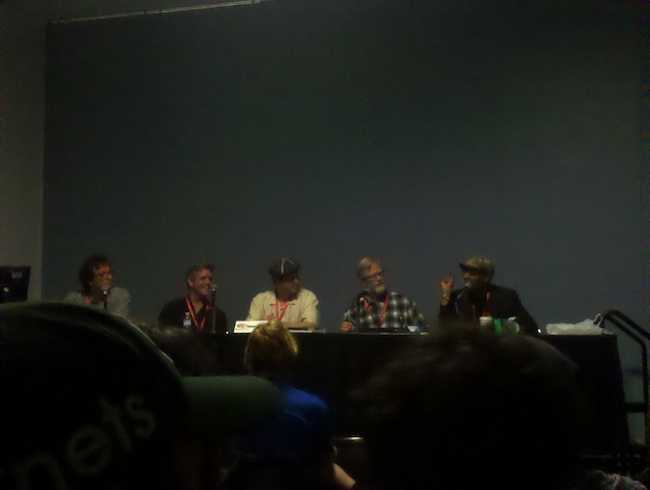 Alt Weekly Political Cartooning was a blast with Ted Rall moderating and panelistsKeith Knight (The K Chronicles), Tim Eagan (Deep Cover), Don Asmussen (Bad Reporter), Shannon Wheeler (Too Much Coffee Man). Ted first showed examples of bad editorial cartoons, mainly about the recent Japan disaster, and then showed off samples of each panelist's work. Q&A included how each got their starts in alt weekly publications, some of Keith's controversies, and that pesky Internet affecting newspaper livelihoods.
My last panel of the convention before heading home was Writing Queer: Creating and Writing LGBT Characters. Justin Hall of Prism Comics stood at the podium and directed a conversation among Paige Braddock (Jane's World), Steve MacIsaac (Shirtlifter), Jon Macy (Teleny and Camille), James Robinson (Justice League of America, Starman) and Marc Andreyko (Manhunter). I wasn't familiar with any of the panelists or characters that were mentioned such as Starman, Northstar and Obsidian, but I still think I got something from hearing James talk about being a straight man writing a gay character. A couple panelists said they just want to write compelling characters who just happen to have LGBT characteristics.
I had started to wonder about yaoi/yuri storylines and then saw Erica Friedman posted something on Hooded Utiliarian that same weekend about how the basic yuri structure hasn't really changed that much over the years. The sports genre definitely seems to have a Story A of its own where a player or team overcomes adversity or has to work its way through a tournament.
I liked attending WonderCon and I'm kind of interested in checking out Alternative Press Expo in October, though the downtown parking situation near Moscone was a little frustrating.
Posted 3 years, 11 months ago