Sup, I'm new to this forum and I thought I might as well make a battle while I'm here. 
Mihawk: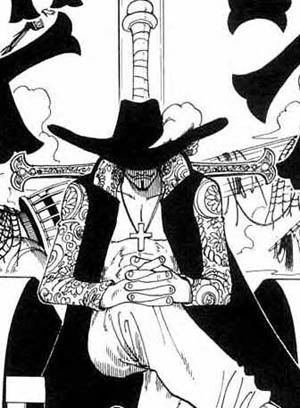 Abilities/Powers/Weapons:  
-Insanely strong compared with most of the other One Piece characters, referred to as a "monster superior to monsters".  
-Incredibly good eyesight, was able to easily follow Luffy's Gear Second moves, and he also has really good accuracy. 
-Wields the "strongest sword in the world", Kokutou Yoru, which is 6 ft long and has been known to slice through entire fleets. His sword has also been seen to do powe rful slashes made up of what looks like compressed air.   
-Also has another blade on his neck, he is shown to be proficient with it as well when he defeats Zoro simply using it to block his attacks and then stabbing him in the chest.
-Not a huge amount has been seen of him yet so it is possible he may have powers we don't know of. 
Kenpachi: 
Abilities/Powers/Weapons: 
-Loves fighting; bloodlust. 
-Body is incredibly tough, he's been known to have his body almost cut to shreds and still be smiling (Kenpachi vs Nnoitra for example). 
-Has massive strength, has sliced through a skyscaper with just a flick of his wrist. 
-Very skilled with his sword and is also incredibly good at hand to hand combat. 
-Huge amounts of spiritual pressure, Kenpachi has as much spiritual pressure as most of the captains even with his limiting eyepatch on and has been seen to fight on par with captains with it on. 
-Good at analyzing fights, although he may seem slightly dumb as all he wants to do is fight it has been noted by Byakuya Kuchiki and other Bleach characters that he is good at finding and exploiting weaknesses in other opponents attacks. 
-His full strength has not yet been revealed as he has not shown his released sword and bankai (hasn't achieved yet, but if he does....)  
For the debate we're going to assume that: 1. Mihawk can see Kenpachi and attack him. 2. Kenpachi's spiritual pressure isn't enough to render Mihawk unconcious and 3. We're only debating about their current powers on the current airing, a.k.a. Kenpachi hasn't achieved bankai yet and Mihawk doesn't have some huge instant death ability etc. So please don't say, Kenpachi uses bankai which is imo huge and kills Mihawk instantly. Curbstomp.    
Rules:  
Unlimited fight time. 
Random encounter, so no prep.  
Edited 5 years, 5 months ago