The Kryptonian will be trained by Goku and Superman for about a year
while the Saiyan will be trained by Batman and Vegeta for about a year.
Then they will use what they've learned from their mentors and fight each other.
After their battle they will both fight their mentors Fused via potara or fusion dance.
Round 1 Krytonian vs Saiyan
Round 2 Kryptonian and Saiyan vs Gogeta or Vegito
Round 3 Kryptonian and Saiyan vs Fused Superman and Batman (don't feel like coming up with a name for him).....
Location- Cell Games Arena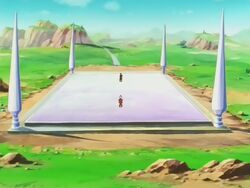 Both the Kryptonian and Saiyan are "Blank slates" they have no prior training to this.
Don't assume just because this is a "Kryptonian" vs a "Saiyan" that it could essentially be A Superman vs Goku thread.....It isn't....
Posted 2 years, 4 months ago